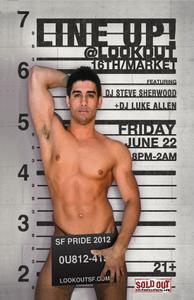 Share on Facebook June 22, 2012, 8 p.m. - 2 a.m.
LINE-UP!
Photo-rific!!!
Line up to have your picture taken at this annual photo driven Lookout party. Photographer Marques Daniels always catches your best side! Check out yourself and your fellow party people on the big screen while getting down to the tunes of DJ Steve Sherwood and DJ Luke Allen.

Check out our good friends at SoldOutClothing.com. They provided the staff shirts for this event.

3600 16th St. San Francisco CA 94114
•
•