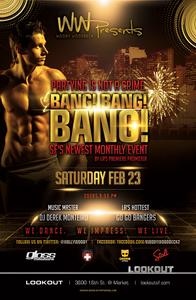 Share on Facebook Jan. 26, 2013, 9 p.m. - 2 a.m.
Bang! Bang! Bang!
Partying Is Not A Crime
LA's premiere promoter Woody Woodbeck invades SF to bring San Francisco a taste of the city of lights. Music Master DJ Derek Monteiro will be banging out beats for LA's hottest gogo studs all night long.
3600 16th St. San Francisco CA 94114
•
•