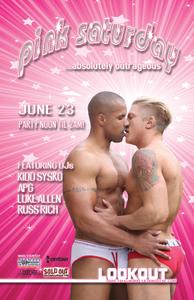 Share on Facebook June 23, 2012, noon - 2 a.m.
Pink Saturday!
absolutely OUTrageous!
Open at noon to start your celebration! DJ Kidd Sysko starts the tunes at 2pm. At 5pm, DJ APG takes over the decks. Absolut vodka will be in the house with special giveaways! For your night time pleasure DJ Luke Allen (8pm) and Russ Rich (11pm) spin the best in high energy/circuit music that they are know for!
3600 16th St. San Francisco CA 94114
•
•